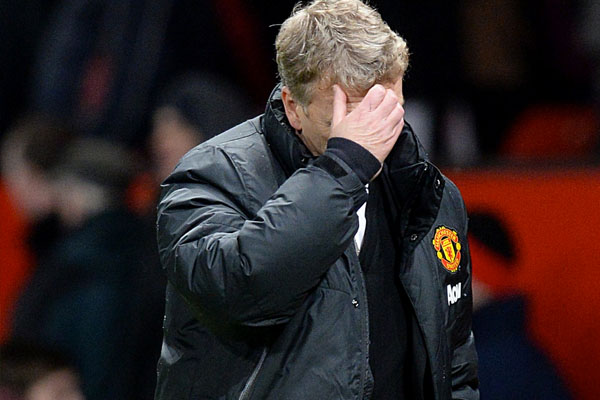 And so it ends.
Today, Manchester United announced the firing of David Moyes, after nine months in charge. Moyes and Manchester United have had an awful season, with Man United looking likely to finish in seventh place and miss out on Champions League football for the first time next season.
Some Man United fans were opposed to Moyes from the beginning. They were wondering why he had been hired, a decision largely based on the recommendation of Sir Alex Ferguson, rather than one of European football's bigger names.
Others were prepared to give him a chance, but his popularity plummeted with every poor performance and defeat, and more and more stories started appearing about how he had lost the respect of the players. The strain started to show on Moyes' face and he was being openly ridiculed by fans and the media.
If it was an inevitable firing, it was still far more brutal than it had to be. The story was leaked to several newspapers before Moyes had been spoken to, and as it was pretty obvious yesterday that Moyes was going to be fired, it seems almost unnecessarily cruel to have kept him hanging on for another night.
Over the next few days many people will write any number of reasons of why Moyes' appointment didn't work out. There'll be questions about his tactics, personnel decisions, training methods, his ability to inspire the players and his overall demeanour.
For what it's worth, I think Moyes' biggest failing was that he simultaneously didn't feel comfortable enough staying within his comfort zone, by playing the cautious, cat-and-mouse, almost chess-match style football he had played at Everton, and he wasn't comfortable stepping out of his comfort zone either by playing a more fast-paced passing game that Manchester United fans had become used to seeing.
In the end what happened was that Manchester United ended up playing a less defensive, but also less eye-catching, and certainly less-effective, version of what Moyes played at Everton, where he tried to marry his way of playing football with the way they had played under Ferguson. It didn't work, and the players stopped believing it ever would.
In the end it came down to simple economics. When you have a manager who is failing to get anything out of a squad of players, and when it's patently obvious that those players did not want to play for him; It's cheaper to replace the manager than replace a whole squad.
What has to be of concern to Manchester United fans is that many of the factors which led to Moyes failing, which go far beyond any shortcomings Moyes may have had, are still factors today.
While Alex Ferguson kept himself current in terms of tactics, training methods and current football philosophy; Manchester United as an organisation became stuck in the past. Ferguson's extraordinary success on the pitch meant that he was allowed to become an increasingly autocratic figure off the pitch.
Under Ferguson, Manchester United conducted transfers in the traditional way English clubs have carried out transfers for years. The manager identifies the player he wants, the chief executive negotiates a transfer fee and contract and then the Chairman gives the go-ahead, or not.
At the same time, many clubs had began to change the way they were run, by adopting a model used more in Europe, where there is a technical director or director of football who is responsible for making some of the big decisions at a club, including transfers. The manager, or as he is more regularly titled, 'head coach' will have a say on transfers, but not necessarily be the final say. Chelsea, Manchester City, Spurs all have one, as do several other Premier League clubs. Liverpool has a 'transfer committee' where several people are responsible for transfers and other decisions.
At most clubs it is no longer the manager who is responsible for contracts, transfers, youth development and all other things on the football side of a clubs. At Manchester United, the manager still has those responsibilities. One of big advantage of this is that if a manager or key, off-field staff member, leaves the club, club business, such as transfers, can still go ahead.
With Ferguson wielding such power at Man United, there's no way he would have consented to a situation where he didn't have full control over matters such as transfers, and it was this that really hurt the club last summer.
At the same Alex Ferguson retired, Chief Executive David Gill, a man with a wealth of knowledge and experience when it came to negotiating and closing transfers, also left the club. Reports said at the time that Ferguson left instructions that nobody was to be signed until Moyes arrived.
So, what happened was Man United were in a situation where they couldn't act until Moyes arrived in the beginning of July; when a lot of transfers had already been agreed by clubs all over Europe, and their new Chief Executive, Ed Woodward, badly struggled to get to grips with the complexities of the international transfer market.
It was clear that there was a need for creativity in midfield, a need which Woodward, tried, and on multiple occasions, failed to address.
Manchester United's transfer window descended into chaos, to the point where on transfer deadline day, with no major deals completed, they started to resemble a man on Christmas Eve who hasn't bought his wife anything and there's only a petrol station open.
Marouane Fellaini, a player who fitted in nicely to Moyes' Everton team, but looked completely unsuitable for Manchester United, was brought in at the last minute, for a fee which was far more than he could have been bought for, thanks to a clause in his contract, a few weeks earlier. Fellaini has had a pretty torrid time in Man United colours, and has struggled to make any sort of positive impression.
At present, several names are believed to be in the running for the Man United job, with Netherlands manager Louis van Gaal being, at the time of writing, the favourite. Van Gaal certainly has the experience, gravitas and the CV required to manage Man United, but he would not be available until after the World Cup, when he is due to step down as Netherlands manager.
That could be crucial, as while it's not true to say that Moyes was left a weak team - they did win the league at a canter last season after all - it was definitely clear last summer that the Man United squad needed revamping, a need which has only grown for the end of this season, as several Man United players are either moving on, coming to the end of their careers, or just haven't proved themselves to be good enough.
There is a real need to improve the defence and midfield for United to challenge at the top again next season. There are still a lot of strong players to build around, but new signings need to be brought in and some of the less effective players in the Man United squad need to be moved on.
The worry that must be there for Man United fans is that the way transfers are conducted is still the same as it was last summer, with Woodward publicly stating that the club has no interest in bringing in a director of football/technical director/performance director saying "We don't have a director of football because we back the manager. He is the expert. He can decide."
This raises the real possibility that if van Gaal is appointed, they could face another summer where they can't, or won't, really do anything transfer-wise until he arrives, which could be as late as mid-July, which could be far too late to get the players they want.
Next season, Manchester United face the unusual prospect of not being able to offer players Champions League football. Despite this, Man United are such a huge name in world football that they shouldn't struggle to attract big-name players. Reports here in England say that the deeply unpopular owners of Man United, the Glazer family, are prepared to back the new manager, whoever that may be, with a substantial amount of money.
The problem is, that until they reform the management structure at the club, they may have targets in mind, and may have the money to get them, but may not be able to get the deals done, which will put Moyes' successor, whoever that may be, just as under pressure as Moyes was put by Man United's failings in the transfer market last summer.