The next time you and your BigSoccer forum mates, wallowing in your on-the-outside-looking-in view of the Major League Soccer playoffs, decide to blame your pathetic loserhood and bottom-of-the-table misery on the fact that your cheapass bastard owner steadfastly refuses to dump millions of his personal dollars on high priced foreign talent, you might want to consider that, after last night, the highest priced player still active in the 2013 season is Real Salt Lake's Alvaro Saborio, whose total compensation for the year won't top $500,000. For those of you who came in late, here's a list of the top seven earners in our beloved little league this season:
$5,038,000 Clint Dempsey, Seattle $4,350,000 Thierry Henry, New York $4,333,333 Robbie Keane, LA Galaxy $3,625,000 Tim Cahill, New York $2,500,000 Landon Donovan, LA Galaxy $1,937,508 Marco Di Vaio, Montreal $1,725,000 Obafemi Martins, Seattle
Over $20 million dollars worth of players got bounced to the MLS Playoffs curb last night.
In fact, you have to go all the way down the High Priced Spread list to #18 (Saborio) to find a guy who'll be kicking a ball in anger come Saturday.
I'm not going to sit here and pontificate on what all of this means. Anyone who can't extrapolate a lesson from these numbers is either intellectually challenged or a Toronto fan.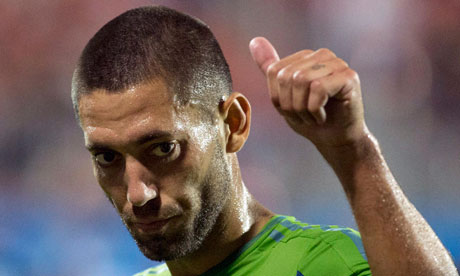 I will point out though that Seattle, who also started the #15 guy on the same list, ($600,000 Shalrie Joseph), may have set a league record for money wastage - not to mention futility - that will stand for decades, even without #10 Freddy Montero ($856,000) who is currently out on loan.
And that's to say nothing of all the money all the other league teams had to kick in to pay Clint Dempsey's transfer fee so that we all could watch him mail in an uninspiring Summer, lead his team to an early playoffs flameout with a singular lack of anything resembling actual production and then slink back to Europe someplace for the Winter.
Hell of an investment.
Which brings us to the two acknowledged Deans of MLS coaching.
How Sigi Schmid keeps convincing Sounders ownership to keep his ample behind on their bench is increasingly mystifying.
As Ben Olsen proved this season, those US Open Cup deals are nice and all, but they don't really mean you've got a terrific, top notch outfit.
In point of fact, no head coach in MLS history has been handed as much salary cash as Sigi has, and after the spectacle of watching the Sounders choke down the stretch this season like a cat with a hairball, you've got to wonder just how long that 2008 Cup with Columbus (not to mention the one Cienfuegos won him in LA in 2002) gets you a pass on lack of recent results.
At some point, someone is going to notice that MLS 2.0 is quickly passing both technically and tactically into something like MLS 3.0 (or at least 2.5) and Sigi may still be back in 1.0, working out a game plan for the big showdown with the Mutes.
Which only leaves Sounders fans, to whom I'd just like to say that you really ought to swallow your foolish pride and let Columbus send you some Capos who have experience creating an atmosphere which helps a team win MLS playoff series.
Then again, there's a distinct possibility that the soccer gods just don't want to see Major League Soccer's biggest game of the year played between freshly painted Seahawks endzones.
Food for thought.
Which brings us to the strange case of Bruce Arena in LA.
All USA fans have a soft spot in our hearts for il Bruce, although most of us also breathed a sigh of relief when he came back to MLS so that we could go back to despising him.
But it's undeniable that the guy knows what he's doing, and has demonstrated same since 1996 with a singularly depressing regularity.
It does appear though that he's seemingly not the same arrogant jackass we've all grown to loathe.
Not that he's lost a bit of that endearing sense of entitlement and smug dismissiveness towards any media representative whose query fails to meet his high personal standards.
Thankfully, that's still intact.
Still, there are troubling signs, and the one that stands out to yours truly is his constant carping, griping and complaining about the officials, who used to be beneath his contempt and, in any case, are one hell of a lot better than they were back in 1996 when on occasion you'd swear they picked them at random out in the parking lot.
Yes, the Mike Magee deal was a terrible mistake, and "he wanted to play in Chicago" isn't really a good enough explanation. Half the damned league wishes they played someplace else. It's true everywhere on Earth. Nobody much cares. It sounds nice, but his absence last night was glaring.
Any way you slice it though, last night was a singular victory for the Money Can't Buy You Love - or Cups - argument.
This year at least, you win in MLS with solid, progressive coaching, shrewd personnel judgment, prudent spending and lack of gridiron lines.
Well OK, so I made that last one up. Sue me.