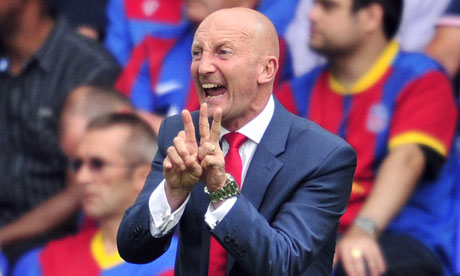 Sad but inevitable.
That's the best way I can describe the announcement today that Crystal Palace and manager Ian Holloway have parted company. For once, mutual consent doesn't just seem to be a nice way of saying fired, but appears to actually mean that both Palace and Holloway thought the best thing for both parties was to move on. There doesn't seem to be any bitterness or recriminations from Holloway or the club, just a sense that what they were doing wasn't working and the best thing to do is try something different.
It's sad in that Ian Holloway is a thoroughly likeable person. In an age where most football players and managers have been media trained to the point where all the personality has been sucked out of them; Holloway's open, honest style in interviews, which often gets him into trouble, has been hugely refreshing and entertaining.
However, it was somewhat inevitable, because Palace have lost 7 of their 8 games so far this season. They have looked horribly out of their depth and completely unprepared for the demands of the Premier League.
This is not one of those articles that is about 'how football's gone mad', or about 'why do newly-promoted clubs seem surprised when the struggle in the Premier League?' or about how any manager can hope to succeed in a climate where less than half of the 92 league clubs in England have had the same manager for over a year. This is because, in this case, I think Palace and Holloway have made the right decision.
Holloway's strengths as a manager are in his man-management and motivation. He is also good at working within a tight budget to build effective teams. He has managed to use these attributes to good effect throughout his managerial career, and has an excellent record in the lower league of English football.
However, managing in the Premier League is a totally different challenge. Not only are you facing a higher standard of player and much better teams, but also a far greater variety of tactics and approaches to playing the game than there are in the Championship and lower leagues. This means that as a manager, you need be able to adapt your approach. Just building up the players' confidence and getting them to give a huge effort every week isn't going to be enough.
That's were Holloway falls short in my opinion. He's not a particularly good tactician. He seems reluctant to change his philosophy to suit the opponent. He also strikes me as the kind of person who ends up getting caught in the details and misses the bigger picture and can get too attached to players to the point where he can't make the tough, ruthless decisions every successful manager has to make.
I'm also not convinced by Holloway's abilities in the transfer market. Holloway has been good throughout his career at taking a player and making him work within his system, but he seems to struggle when given carte blanche to build a team.
This summer is a good example. While Palace didn't spend great amounts of money, they did bring in 17 players. Palace seemed to be trying to follow the model of Norwich last season, where they strengthened for the Premier League by buying some of the Championship's better players, but it hasn't quite worked out that way.
Palace brought in a mixture of okay-but-not-great players with Premier League experience like Barry Bannan, Jason Puncheon and Jerome Thomas but also brought in a bunch of players who had not quite cut it in their previous Premier League spells such as Cameron Jerome, Adrian Mariappa and Palace's most eye-catching signing of the season, Marouane Chamakh.
Palace seemed to have a scattergun approach to transfers, never being totally sure what they wanted. This led to a crazy situation where they had brought so many players in that it meant that Florian Marange and Stephen Dobbie, players that they'd signed in the summer, ended up being omitted from their Premier League squad for this season.
The end result of this is that Palace have assembled a very strong Championship side, but a side that seems woefully ill-equipped to compete in the Premier League. It is also a side which has changed so much, it has lost a lot of the team spirit that got them to the Premier League, a fact conceded by Holloway today.
That may not necessarily be a problem though. It been proven many times that teams on a small budget, or even teams that just aren't very good, can survive in the Premier League if they are sufficiently well organised and hard to beat. The problem for Palace was, that under Holloway, Palace were not hard to beat.
A few seasons ago, Holloway was manager of Blackpool when they were in the Premier League. Blackpool and Holloway won a lot of friends that season for Blackpool playing some fearless, attacking football with their players putting in an admirable effort every game. However, Blackpool were relegated that season, whereas Wigan and Wolves, teams which were about as good on paper as Blackpool, took a more pragmatic approach and stayed up. On the evidence of this season, Holloway hasn't learnt his lesson from his last spell managing in the Premier League.
It has to be said that Holloway was not universally popular with Crystal Palace fans, despite getting promotion to the Premier League. Holloway was brought in after Dougie Freedman (a hugely popular player and manager at Palace) surprisingly left with Palace flying high in the league to manage Bolton. Holloway came in and changed the style of football, but results suffered, much to the chagrin of fans. Palace slipped down the league and only scraped into the playoffs, though they did exceptionally well to beat Brighton and Watford, two sides that seemed much stronger than themselves.
Unfortunately, I just don't think Holloway is cut out for managing in the Premier League. There's no shame in that; many others have found that they can't translate their management style to fit the Premier League. He's a very good lower league manager, and will have no problem finding a job.
As for Palace, it seems as though former Stoke manager Tony Pulis is the man they are looking for. Pulis' preferred style of football may be the visual equivalent of nails down a chalkboard, but it is effective, and it is a style of football that can be used to help a team that is outmatched in terms of ability level the playing field. Pulis also boasts the admirable statistic of never having been relegated in the managerial career.