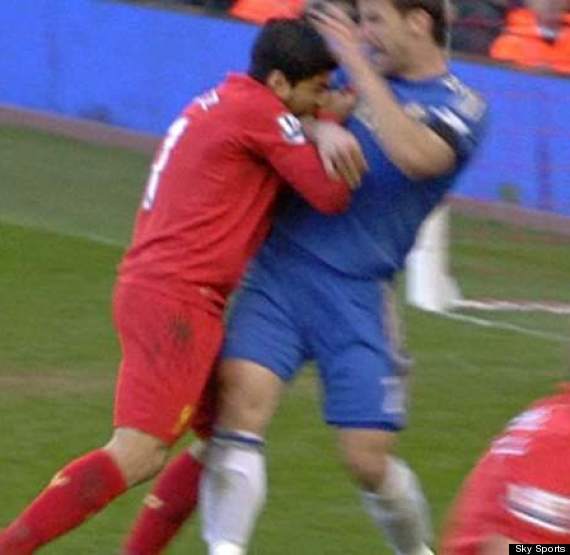 As I'm sure most of you reading this know, Luis Suarez was charged by the FA after attempting to bite Chelsea's Branislav Ivanovic. It's still not clear exactly what happened. The TV footage was inconclusive as to whether Ivanovic was actually bitten, and a police statement said that Ivanovic had received no injury. Today, the FA banned him for 10 games.
Firstly, let me make my position clear. I'm not here to defend Suarez. Regardless of whether he actually bit Ivanovic or just tried to, what he did was one of the most disgraceful, despicable acts I've ever seen. He certainly deserved to be punished, though I can't comment on whether I think the punishment is fair or not, because I haven't seen the FA's reasoning behind their decision. This will be available tomorrow.
A couple of weeks ago, I was watching a Rugby League highlights show. During the show, the studio guests were discussing the appointment of a new head of refereeing. The presenter asked Ian Millward, who has been the head coach of several teams in England and Australia, and who has a reputation for questioning the decisions of referees, what changes he would like to see this new appointment make.
Millward's response was an interesting one. He said that the league has to decide what style of rugby they want to see played, and then tailor the refereeing to that style. So if they want a free-flowing game, there's certain offences they have to clamp down on, if they want a more physical game, there's a different set of offences they have to strictly enforce.
That was in my mind when I heard the news about Suarez's ban this afternoon, and it got me thinking about what message this ban sends out to English football.
As we know, there's a large variety of ways you can play football, ranging from the intricate technical passing game we've seen Barcelona play for years now, all the way to the rugged, physical style employed by teams like Stoke City who, realising they cannot match more skilful teams, counter this by playing an extremely physical style of football that works for them.
Most of the major leagues in the world have their own style of football. La Liga is known for its technically excellent football, Serie A is known for the depth and variation in tactics.
English football is known for being fast and physically tough, which is evidenced by the number of technically excellent players that have tried and failed to make an impression in the Premier League.
Unfortunately, while fast and tough football makes for exciting viewing, it doesn't serve England well on the international stage, where the technical deficiencies of the England players are exposed because they are not used to keeping possession for long periods of time, because in the Premier League, you don't need to.
For a country in which so many people play football on a regular basis, it is frankly embarrassing how few genuinely technically proficient footballers England produces. This is because for too long, physical attributes such as height, speed and strength along with character traits such as the very English quality 'bottle' have been valued far above skill and technique to the detriment of the English game.
Belatedly, this is something that the FA has decided they want to change, and have finally started to take measures to produce better footballers. In the past few years, there have been changes made to the way youth football is organised, changes to the way players are coached and other changes that the FA hope will produce better footballers in the future.
The focus in English football has gone from being a game that allowed brute force to triumph over skill, to a game where the emphasis is now on allowing skilful, talented players to play without fear of being brutalised by the opposing team.
To go with this paradigm shift, there have been slight changes to the way the rules are enforced by referees. These changes are designed to protect players from the sort of bad challenges that once blighted the game. Gone are the days where players could scythe through the back of an opponent's legs, send them flying into the hoardings around the pitch or start the game off by giving them a good, hard kick to let them know they're in for a tough afternoon and really shouldn't try and take you on.
To combat physical play that crosses the line, the FA can bring charges of violent conduct against players. This charge, which covers everything from striking another player to making a challenge that could potentially cause harm, usually brings a punishment of a three-match ban.
However, there are circumstances where the FA feels as though the standard punishment, or a punishment, or non-punishment, meted out by a referee (which the FA usually adheres to) isn't sufficient. In this case, there's an 'extraordinary circumstances' panel that has the discretion to issue a misconduct charge and hand out greater punishments than the guidelines suggest.
There are problems with the 'extraordinary circumstances' rule. The first is that there is no consistency in when it gets applied. The second is that this rule is almost always applied only to high-profile cases when there is a public outcry for something to be done. What this effectively means is that two people can commit the same offence, but there's no guarantee that both will be punished.
For example, earlier this season, Eden Hazard got banned for kicking a ballboy in a game against Swansea City. Last season, Swindon Town's Matt Richie did the same to a ballboy at Oxford United and received no punishment.
When charging Suarez, the FA made the statement "the standard punishment of three matches that would otherwise apply is clearly insufficient in these circumstances". That statement is correct, but it seems wrong that the FA would make such a highly-prejudicial statement like that before conducting a hearing or any kind of investigation.
There has been one other incident of biting in the Premier League, where Jermain Defoe, in his first spell at Spurs, bit West Ham's Javier Mascherano, which was a far more blatant bite than Suarez's, but the FA decided the yellow card Defoe received was sufficient punishment and took no further action. So what's changed? Why does one offence register a minimal punishment and one a severe one?
Considering it was only a few weeks ago the FA were patting themselves on the back about introducing goal-line technology, they seem oddly reluctant to apply video technology to punish bad tackles.
A few weeks ago, during the Premier League match between Wigan and Newcastle, Wigan's Callum McManaman caught Newcastle's Massaido Haidara above the knee, in a challenge which is almost universally regarded as one of the worst in the past few years. By some miracle, Haidara wasn't too badly hurt, but his career could easily have been ended. McManaman received no on-field punishment, but as the assistant saw the challenge, the FA decided not to take any further action.
Ask anyone who plays football which incident they would rather be on the receiving end of and every single one would say the Suarez one. As disgusting an act as it is, biting someone is nowhere near as dangerous as making a tackle that could break a bone or damage a ligament.
Every time the FA hands out a punishment, it sends a message as to what is, and isn't allowed in English football and also where a particular offence lies in the grand spectrum of offences.
In 1997 during a game between Leeds United and Manchester United, Roy Keane tried to foul Leeds midfielder Alf-Inge Haaland, but ended up injuring his own ACL. Haaland, unaware of Keane's injury and angry about Keane trying to foul him, accused Keane of faking injury to try and escape a card. Four years later, Haaland was playing for Manchester City when he went into a challenge with Keane who got him with a truly sickening challenge on his knee, which effectively ended Haaland's career. Keane received the standard three-match ban for that tackle.
Several years later, in his autobiography, Keane admitted that he had intentionally injured Haaland, and had been waiting for the right opportunity to deliver retribution following the initial incident in 1997. Following that revelation, the FA banned Keane for five games, meaning he served an 8 match ban in total for that incident.
Again, what Suarez did was terrible, but is it really worse than pre-meditatively injuring someone to the extent that their career ended?
Manchester City's Ben Thatcher delivered a late forearm smash into the head of Portsmouth's Pedro Mendes, which knocked Mendes unconscious, caused him to have a seizure and resulted in him being hospitalised. Thatcher was booked at the time, but the FA used its powers to give him a further punishment of an 8-game ban. Again, is what Suarez did worse?
The answer, according to the FA, is yes.
This punishment shows that for all the noises the FA make about trying to steer English football away from a game dominated by brute force, they are still extremely reluctant to punish that type of play. Bone-shattering tackles are fine, Chris Morgan fracturing Iain Hume's skull with an elbow is no problem, one player biting another is fine, so long as they get a yellow card for it.
Let me once again reiterate that Suarez deserved to be punished for what he did. However, the message the FA seem to have sent out today is that Suarez would've been better off seriously injuring Ivanovic than attempting to bite him. Is that really the right message for the greater good of English football?