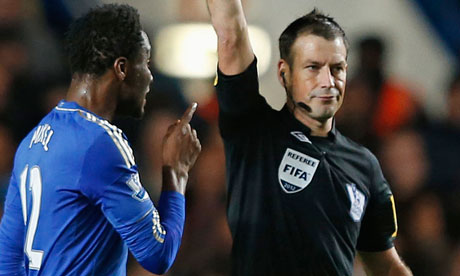 Chelsea have complained to the Premier League about the conduct of referee Mark Clattenburg following their 2-3 defeat to Manchester United yesterday. Chelsea have alleged that Clattenburg used 'inappropriate language' to two of their players, with Jon Obi Mikel believed to be one of them. Part of Chelsea's complaint includes an allegation that Clattenburg used "racial language".
One newspaper alleges that he used the phrase 'Spanish t**t' to one of Chelsea's players (it's unclear if it was aimed at Torres or Juan Mata). Clattenburg has been stood down as a referee by the governing body of referees, the Professional Game Match Officials, while an investigation into these allegations takes place.
The game was a stormy affair which saw Chelsea fall two goals behind, only to equalise before Branislav Ivanovic and Fernando Torres were sent off, before Javier Hernandez scored a winner.
Chelsea were incensed by Clattenburg's decision to send off Torres, who was shown a second yellow card for diving following a challenge from Jonny Evans. Replays have shown that Clattenburg got his decision horribly wrong, with Evans making clear contact (and to be honest it should've been Evans who received a card for the challenge, and from the look on Evans' face, he thought he was getting a card too) with Torres. Chelsea were further aggrieved with the officials when Hernandez's goal was allowed to stand despite him being clearly offside; it wasn't a close decision and it's hard to see how the officials got it so wrong.
The performance capped a poor weekend for officiating in general with the results of the Arsenal-QPR game and the Merseyside derby being decided by two erroneous offside decisions.
Firstly let me make my position clear. If Clattenburg has said the things he is alleged to, then that's completely unacceptable and totally deserving of the punishment that will follow. If he is guilty Clattenburg should never referee a game again.
The point that seems to have been buried beneath a sea of predictably sensationalist headlines is the one that Clattenburg, who is one of England's best and most experienced referees, was evidently pushed to a point where his patience snapped. If things get to a point where a referee snaps and says something back then something should be done to stop things getting to that point. If the Chelsea players knew there would be consequences to surrounding a referee and arguing, they wouldn't have done it and this incident wouldn't have happened.
The only thing that surprises me about this incident is that it has taken so long before a referee has reached the end of his rope and said something back. For far too long players and managers have been allowed to surround the referee, argue and hurl abuse at players, and the authorities have done nothing to stop them.
Arguing with a referee is one of the most pointless things a footballer can do. Any referee with a spine will not change his decision and arguing with the referee only serves to annoy them and reduce the chances of a decision going in your favour later on in the game. Very few managers recognise this though and most do nothing to stop their players surrounding the referee and are happy to publicly complain about a referee's performance after a match.
Many managers are only too happy to speak on TV about a refereeing mistake. Mostly this is done to cover their or their teams own mistakes and inadequacies. There are a few exceptions to this; Brian Clough famously wouldn't stand for his players arguing with a referee, and in fact he once fined Viv Anderson for 'staring at the referee in an arrogant manner', and Reading manager Brian McDermott has ordered his players not to argue with referees this season.
Disgracefully here in England, the media are also only too happy to join in at having a go at a referee. I heard one moron on a national sports talk radio station recently leading a discussion on the topic 'what sort of person would want to be a referee?' at a time where local amateur leagues are closing down due to a lack of referees, and the FA are desperately trying to recruit people into refereeing.
Referees are human, and like you and I and everyone else, will get it wrong sometimes. Sometimes they'll get it really wrong and will have a bearing on the result of a game. When that happens, players, fans and teams have every right to feel aggrieved about it. What they absolutely don't have the right to do is to abuse the referee in any way, shape or form.
The abuse of referees has been a major issue facing football for many years now, and it's an issue that everyone agrees something should be done about, but nobody ever does anything. It's one of those subjects that the FA raises now and then, pays lip service too, and then does nothing about it.
The FA has a campaign called 'Respect', which amongst other things, aims to reduce the amount of abuse a referee takes. It's not working. One of the reasons why it's not working is that the FA don't punish players for. Occasionally they'll dish out a perfunctory fine to a player or a club, but that's not sufficient.
The amount of times that players and managers are held accountable for abusing a referee is laughably low. Some managers openly question the competency, fitness levels and even the integrity of a referee and do so in the knowledge that at worst they face only a derisory fine and a ban that's not really much of a ban at all, as a consequence.
That is what has to change. The FA should be fining clubs and players, and fining them hard for abusing referees and anyone who questions the competency or integrity of a referee should face a ban. Not just a ban that means they can do pretty much anything except stand on the touchline, but a proper ban.
The failure by the FA to tackle the abuse on referees in the professional game has had a knock-on effect to the amateur game, where assaults on referees are increasing year on year and referees are leaving the game in droves as they just can't take the abuse any longer. It's a problem that's been bad for years and shows signs of only getting worse.
I've previously argued that the only way to stop players abusing referees is to allow referees to wear a microphone so that TV audiences can hear them. This is done in both codes of Rugby, were the referees wear a mic, and TV audiences can hear what the referees are saying to the players, what the referees are saying to each other, and what the players are saying to the referee; and some Rugby grounds allow the spectators to rent earpieces so they can listen in too. This doesn't mean that rugby referees get it right all the time, but it does at least mean that Rugby fans more often than not know why a decision has been made. Currently in football, all the officials wear mics, and can hear what each other is saying, but nothing is recorded and nobody else is privy to the referee's conversations on the pitch.
Usually, the only thing that makes players and clubs change their behaviour is money. If a TV audience hears a player verbally abusing a referee, that's the kind of thing that makes sponsors nervous, especially if that player or club are associated with a family brand. If a sponsor gets nervous and threatens to pull out of a deal, the player in question will either stop swearing at referees or their club will make them. That's the only effective way I can see to stamp the abuse of referees out.
I believe that making referees wear mikes has several benefits. It takes away the ambiguity around decisions, which is often the biggest source of frustration for fans, so whether the decision is right or wrong, at least they know why it was made. It would make both referees and players more accountable for their actions, and I think it would change the perception of a referee from football fans. Currently there is an air of mystery surrounding referees and I think that if you could hear what they are saying, it would dispel that somewhat and show the world that referees are ordinary people too, and would make fans more sympathetic.
This is an idea that has been tried before. In 1989, as part of a TV show called 'Out of Order', referee David Elleray wore a microphone for a game between Millwall and Arsenal. The clubs had been informed beforehand, but Arsenal had forgotten to tell their players that Elleray was miked up. During the game Arsenal's Tony Adams had a goal disallowed and viewers got to hear him protest the decision (in an amusingly squeaky voice) before calling Elleray 'a f@cking cheat'. Adams only received a mild ticking off for doing so. Since then, nobody's repeated that experiment, but I think it should be brought back.
Referees are by no means perfect, and by no means above criticism. There should be a better system of making referees accountable for their mistakes, which if done properly, should help a referee improve their performance. However, they are an essential part of the game and should be protected as such by the authorities, which means the FA have to act and get tough on clubs, players and managers who abuse referees.
Once they actually start to punish people for abusing a referee, then they can start to take measures to stop them doing it in the first place. If that happens then hopefully incidences of players surrounding the officials, haranguing them and hurling abuse can be consigned to the past. It has no place in our sport and should be stamped out as soon as possible.