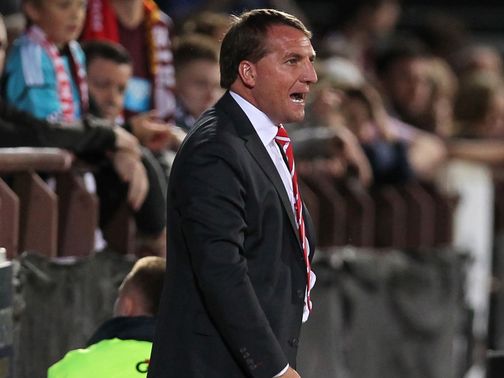 The Premier League transfer deadline has passed and Liverpool never managed to sign the striker they probably needed. Several deals were lined up, and for one reason or another, none came to pass. The highest profile deal that didn't happen was the one for Clint Dempsey, who ended up signing for Tottenham. Depending on who you believe, either Liverpool tried to pull a fast one and deliberately made a lowball offer to Fulham in the hopes they'd accept anything knowing he wanted to leave, Fulham taxed Liverpool for publically expressing an interest in Dempsey or Liverpool refused to meet Fulham's valuation for him. This leaves Liverpool with only Luis Suarez and Fabio Borini as senior recognised strikers at the time of writing, with Liverpool believed to be exploring options in signing an out-of-contract player, which are allowed to be signed outside of a transfer window.
This has led to much wailing and gnashing of teeth amongst Liverpool fans, and the finger-pointing has begun as Liverpool fans seek answers as to why no deals were made. This has been coupled with Liverpool having a rough start to the season, as they learn a new style of play, which when coupled to the fixture computer giving Liverpool several really tough games early on and a spate of individual errors costing goals has led to some fans being in a state of despair already.
Liverpool owner John Henry published an open letter to fans today, which was sort of a mea culpa in that it acknowledged that something had gone wrong on deadline day, but didn't provide the reasons as to what went wrong, or more importantly, how they will ensure that it won't happen again in the future.
Several fingers are being pointed in the direction of Managing Director Ian Ayre, with some reports stating that FSG will fire him over his failure to close a deal on deadline day. I think the criticism of Ayre is unfair. He comes from a business background rather than a football one. He didn't ask for the job of being responsible for transfer deals, he was moved into it after Damien Comolli was fired. I've long argued that Liverpool need to appoint a CEO. Ayre should be responsible for the commercial side of the club only, which is his strength, and FSG should bring someone else in to assume responsibility for all issues pertaining to the team.
Had Liverpool signed a striker, it would've capped a good transfer window for Liverpool. Liverpool have definitely improved their squad since last summer. Not only have they made some good additions and upgraded several positions, but they have also improved the squad by trimming some of the fat off it, making the squad leaner. There have been several fans complaining that Rodgers has left the squad too thin, with no strength in depth, but with the exception of Craig Bellamy, I don't think Liverpool have lost single player of note. Kuyt, Maxi and Aquilani were not part of the manager's plans and Charlie Adam and Jay Spearing were not in the first-team picture, so it is was the correct move for both players to leave (Spearing on loan) and similarly Nathan Eccleston was never going to make it in the first team either. Similarly, had the deals for Dani Pacheco or Jordan Henderson gone through, there wouldn't be too many Liverpool fans that upset they'd gone. Liverpool might have lost depth, but it wasn't strength in depth, so no harm done in my opinion.These departures also mean that Liverpool have reduced their bloated wage bill, which should mean more money available to make signings in January should they be needed.
Liverpool have had the whole transfer window to improve their strikeforce. It was only in the past week or so that Rodgers started making noises that he actually wanted to sign a striker after previously being indifferent to doing so, which limited Liverpool's options somewhat. On deadline day itself, several strikers were linked with Liverpool and, depending on who you believe, deals fell through late in the day that would have brought players to the club.
Clint Dempsey would've been a fine addition to the Liverpool team, and I'm sure will be a fine addition to Spurs' side, but he wasn't really what Liverpool needed. Dempsey would've been an upgrade on what was already there rather than filling a positional need. Even if Liverpool had signed Dempsey, they would still need a striker and fans would still be wondering why a striker wasn't signed.
I'm looking at this from a different angle. I think that it actually shows that the club has learned somewhat from previous transfer mistakes. Despite what most Liverpool fans would tell you, they have always had the finances to compete at the top, but have wasted millions in the transfer market.
UEFA clubs now have to adhere to Financial Fair Play rules, where clubs, in theory at least, cannot just go out now and spend, spend, spend as they are not allowed to run up huge losses, or else they will be barred from participating in UEFA competitons such as the Champions League or Europa League. Even though exclusions won't happen for a couple of seasons, UEFA are monitoring club accounts now and will use them to decide on awarding teams licences to play in Europe.
What this means is that clubs have to watch the bottom line closer than before There is a greater emphasis on buying young players as clubs have to look at potential resale values for players when weighing up how much a player is worth. This means that players in their mid-to late twenties, once considered a player's prime, will be looked upon less favourably as they have less resale value than a younger player. Some reports have it that Liverpool missed out on Dempsey by a million pounds or so, which may not sound a lot (in football transfer terms anyway), but if that million is more than Liverpool believed he's worth, and at the age of 29, Dempsey's resale value in a couple of seasons or so won't be high, then it's correct that they didn't go higher. There is a strict budget in place now and it has to be adhered to.
Some fans have bemoaned the lack of other targets, believing that Liverpool put all of their eggs in one basket when it came to signing Dempsey, and complain that Ayre didn't sign someone, anyone. I think it's a measure of growth that rather than just signing a player because they could, Liverpool did not make any deadline-day signings at all. Sometimes the wisest investment you can make is to not make one and spend your money another time.
Cast your mind back to when Fernando Torres was sold close to the end of the transfer window. Immediately Kenny Dalglish and Damien Comolli moved and signed Andy Carroll for a British transfer record £35m. There was no real consideration as to how he would fit in the team, as Liverpool's pass-oriented game did not suit the direct style of football that Carroll thrives in. That was an ill-conceived panic-buy, and as I argued at the time, a colossal error. I'm glad it hasn't happened again.
Carroll was loaned out the day before the transfer deadline. You have to presume that Rodgers only did so because he was confident that Carroll would be replaced. It's easy to look at the deal to loan out Carroll as a bad move in hindsight, but I still think it was the right one, as there were seemingly no takers for a permanent move for him at a price that wouldn't give FSG an aneurysm. This deal sees West Ham pay a small loan fee, but pay all of his wages, which will go some way towards softening the blow when Liverpool sell him for a huge loss next summer.
Liverpool were just about to start playing their sixth competitive game of the season when the news broke about Carroll's loan deal. Carroll had played the grand total of 18 minutes in the previous five games for Liverpool this season. So he was far from in the manager's plans. Carroll doesn't fit into the possession football Rodgers likes to play, preferring a more direct style where he can use his physicality to good effect. Liverpool are currently learning a new playing philosophy and had Carroll stayed and played, Liverpool would have had to change their approach to the game to accommodate him, which would have stunted their development as a team.
As one door closes, another one opens. This may give some of the younger players in the Liverpool squad a chance to show what they can do. Raheem Sterling was given a chance and grabbed it with both hands and looks like he'll be a regular player this season. There's no reason why some other players can't do the same. Adam Morgan started against Hearts and looked promising; Ousamma Assaidi was signed in the summer and players such as Samed Yesil may find their path to the first team accelerated.
Under successive managers, there has been too big a gap between the academy and reserves for young players to bridge. There hasn't really been an attacking player come through the ranks at Liverpool and become a first-team regular since Steven Gerrard in 1999 (I wouldn't count players such as Neil Mellor as regulars), and that is something that needs to change.
There's no doubt that between them, Rodgers, Ayre and FSG dropped the ball when it comes to signing a striker, and all parties will have to accept that mistake, take the criticism coming their way and move on, but I think it's a positive thing that for the first time in a long time, the club seems to be taking the long-term view when it comes to buying the right player for the right fee, they seem to have a plan and more importantly, seem to be sticking to that plan, even in the face of fan opposition.
Despite the deadline day debacle, I'm very happy with how the transfer window went for Liverpool and look forward to the future under Brendan Rodgers.