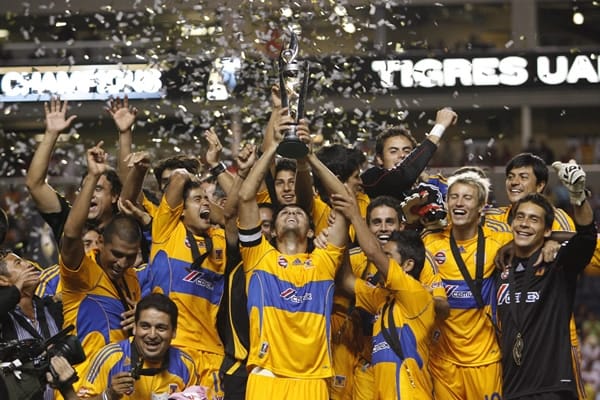 The rumors had been swirling for years, and it appears that it will finally happen. The 18 teams in Mexico's first division will play in a league that is affiliated with, yet autonomous from the FMF. The 18 teams' owners voted to pursue the new league outside of the FMF framework, added a "Cup" tournament, and named FMF Secretary, Decio de María as the new league's commissioner.
The new league is expected to be modeled after the Barclay's Premier League. One of the next steps is securing the League's title sponsor. And, of course, that is one reason why the suits have decided to take this path. I don't think I need to spell it out for you.
It is no secret that for the past few years, the MFL has seen a decline in TV ratings and attendance. Very few stadiums sell out regularly, and even popular teams like Chivas are having a hell of a time finding fannies to fill seats. It certainly does not help that more and more games from other parts of the world are being shown with more regularity in Mexico, not to mention the fact that most of the "pundits" in Mexico hammer the local league relentlessly about how bad it is, when compared to Real Madrid v Barcelona. Well, it may not be the Champions League, but the quality is pretty good, and it is much better than the talking heads in Mexico would have you believe.
Our friend, Martín del Palacio detailed the league's struggles earlier this year in Expansión, a Mexican news weekly.
Unlike other soccer leagues, FMF was one of the few leagues whose majority of games were shown over the air in another country. Unfortunately for them, that all changed when Univision launched their Univision Deportes Network earlier this month. In its first few weeks of existence, UDN has cherry-picked their best games for the new property, which as of this posting is still only available on Dish. Their first broadcast was the Monterrey Derby.
There were a lot of pissed of Regios.
Team owners wanted to shake things up, and they intend to strap the league into the paint mixer. About a week ago, Mexico petitioned to FIFA to alter point awards for games. If they have their way, then a 0-0 draw will yield exactly that - 0 points. A 1-1 draw will still be worth a point, but 2-2 draws and beyond would be worth 2 points.
I am not sure what to make of that.
The league promises to make other changes, but were very hesitant to release other details. They have yet to discuss the most important piece of the puzzle: television. Both Televisa and TV Azteca have had a hammerlock on Mexican soccer for decades, so it will be curious to see if in their quest to strip mine every dollar from every conceivable corner of their futbol world, if they at least consider dancing with new media partners.
There is plenty of room for improvement.
FMF has a website, but it might as well be one from 1999. The new league will have to have a more prominent web presence. The one it has now is non-existent.
There is talk of adding a Monday Night TV window to their schedule. Despite having Tecos in the Friday night window, Friday night ratings were actually quite decent, and they figure they could replicate that on a Monday. Regardless of who plays when, the most interesting (and potential for most conflict) decisions will be made about television rights. Will the league negotiate as a whole, or will each team be given the "freedom" to negotiate their own contracts (I use the quotes sarcastically because the TV negotiations are usually one-sided, and the teams aren't on the winning side)? Will other players like Fox Deportes and ESPN be allowed at the table? They should be. And then there is the US market...
All details are expected to be finalized and announced on or by May 30, during the "Draft", which sadly, probably won't go away.