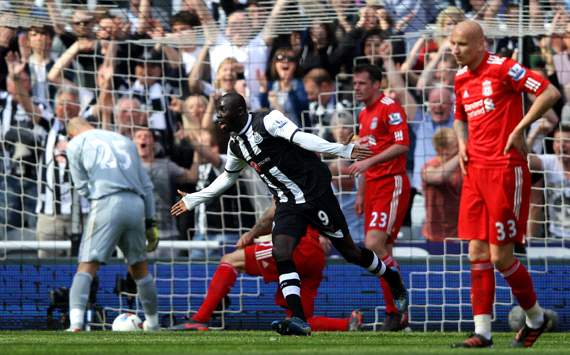 Football is a team game; it may be the ultimate team game. Teams live and die by the ability of those in them to subjugate their egos and play for a collective cause and remember the adage 'if the team wins, we all win'. It is often said about the best teams that are greater than the sum of their parts. That means that while individually their team members may not be the best, when they all combine they raise themselves to a higher level and are able to achieve far more than you would expect them to.
Today Liverpool once again showed that they are far less than the sum of their parts, by putting in yet another miserable performance in their 2-0 defeat at Newcastle. It isn't accurate to say that Liverpool are a bad team; there are many talented players in their squad. But they are a team that are playing badly.
The performance of any team can be attributed to an accumulation of individual decisions. When those decisions are bad ones, a team cannot succeed. That is what happened to Liverpool today. Far too many players made bad decisions at critical times, which is ultimately what cost Liverpool the game.
Some of those individual decisions were not Liverpool's fault. The referee and linesman missed a blatant handball on the line early in the match, then missed that Papiss Cisse was at least four yards offside for Newcastle's second goal. However, it is wrong and unhelpful to lay the blame for this result at the officials' door, and Liverpool's players and management have to look at their own decisions.
The coaching staff as a whole has to look at their preparation for this game and decide whether or not it was the right approach. Liverpool played a formation they looked to be unprepared to play. They seemed to have no idea where one another was on the pitch and seemed to be taken by surprise by the way Newcastle played.
Kenny Dalglish has to look at his own decisions in the aftermath of this game. His team selection was strange. Andy Carroll would have been fired up to play against his old team. So it was strange then that Stewart Downing, Liverpool's best crosser of the ball, and therefore the player who represented the best chance of providing the ammunition for Carroll to get the kind of chances he thrives on, was left out of the starting line-up in favour of Jonjo Shelvey, a player who has barely featured for Liverpool.
The lack of a player who can get to the by-line and cross the ball meant that the only balls getting played into the Newcastle penalty area came from deep, more central areas, which means that they have to be flatter, less powerful, crosses than a cross whipped in from out wide, which made them easier for the Newcastle defenders to deal with, and totally took away Carroll's height advantage over the Newcastle centre-backs.
Dalglish also has to look at his own decision not to make any changes to either personnel or formation. Liverpool started the game with a midfield three, which just didn't work. It was obvious midway through the first half that the formation wasn't working, yet Dalglish didn't make any changes to either the tactics or the players until fifteen minutes to go, when it was too late o do anything. He brought on Downing, so Carroll finally had someone who could provide for him, but was taken off minutes later. Dalglish may also question the wisdom of bringing Jordan Henderson, a player low in confidence and lacking in form, into a game that was already lost, to suffer the inevitable taunts and barracking any ex-Sunderland player gets at Newcastle, which will only negatively impact his confidence further.
As for Andy Carroll, he has to look at his own decisions in this game. After ten minutes, Carroll ran onto his own flick on, went on a brilliant run, rounded the keeper, and promptly dived rather than tapping in the net and was rightly booked. Carroll chose to cheat rather than score, and he has to ask himself if he approached the game with the right mentality if he was more interested in proving the taunting Newcastle fans wrong rather than doing what's right by his team.
Steven Gerrard and Craig Bellamy have to look at their own decisions in this game. Too often both players were guilty of trying to force a pass into the area or trying to thread the needle, when there were open players around them. Similarly Luis Suarez was guilty of trying to take that one extra player on instead of playing the simple pass. Liverpool as a unit today seemed completely oblivious to each other's positions on the pitch and as a result there was no cohesion to their play.
Pepe Reina has to look at his decisions in this game. Newcastle's first goal game as a result of some terrible marking from Skrtel, who has reverted back to the impetuous defender he was prior to this season without the calming influence of Daniel Agger, but Reina was glued to his line. If Reina had taken a couple of steps off his line, he would have taken away the acute angle Cisse had, and Cisse's excellent header wouldn't have gone in. Reina then delivered the coup de grace on a truly crappy game by making another poor decision and getting himself sent off. Reina was tripped in his area while trying to take a quick throw and reacted by flicking his head out towards James Perch. Reina didn't make any contact, and it was a shame to Newcastle's James Perch still felt the need to cheat (and that's what it was) to get Reina sent off, especially as his team were leading and in total control. However, despite the lack of contact, the act was an aggressive one and the red card was justified. Liverpool may appeal, but I doubt it will be overturned as it was violent conduct, and Reina only has himself to blame for missing the next few matches, including the FA Cup semi-final. Reina's been playing so poorly recently, that it may actually be no big loss that he will miss a few games.
Liverpool's players have to look at themselves after that performance and question just how much they wanted to win. There seemed to be a collective dropping of heads when Newcastle went into the lead, and Liverpool never really looked like coming back into the game, even though there was over two-thirds of it to go. Yet again, the players were looking at one another to make something happen rather than taking some responsibility themselves, and the default tactic of giving the ball to Suarez and hope he can do something didn't work as Suarez had an unusually quiet game. Far too many of that team accepted defeat too easily. Even if you are having the worst game of your life, there's no excuse for giving anything other than maximum effort. Liverpool's players have to ask themselves if they did give everything they had today, and I think the honest answer from the majority of layers was 'no'.
Steven Gerrard has to question his performance as captain, as his on-field leadership today was virtually zero. You would have expected Kenny Dalglish to have given the team some inspiration at half-time and to for that to have been reflected in Liverpool coming out fired up for the second half. That didn't happen, Liverpool put in the same uninspired, insipid performance they did in the first half, so Kenny Dalglish and Steve Clarke have to question the half-time teamtalk, as whatever approach they took clearly didn't work.
The next major set of decisions that have to be taken are critical ones to the future of Liverpool. Liverpool's owners met with Director of football Damien Comolli recently. It is unknown what was discussed, but I think it's fair to fair to say that the owners will have wanted some answers to the dire league campaign after such large investment in the team, with Liverpool's results in 2012 the second worst in the Premier League, only Wolves have worse form.
With six defeats in the last seven Premier League games, the owners have to make a decision on whether or not they should keep faith in Kenny Dalglish and Damien Comolli, or if one, or both, should carry the can and Liverpool start afresh once more next season. Kenny Dalglish also has to make the decision of whether or not he's the right man to correct the problems that the Liverpool team are experiencing, or if he, or his decisions, are part of the problem. I'm sure if Dalglish ever feels as though he's not the right man for the job, he'll step aside.
It is pointless dwelling too much on the bad performances Liverpool have put in over the past few weeks. They've happened. It's now in the past. There is a lot Liverpool can learn from the debacle at Newcastle and the terrible performances that preceded it. But those lessons can only be learned if the tough questions are asked of the management and the players, and the players and management asking those tough questions themselves. If that happens, and honest answers are given, then Liverpool can grow from this and find a way to correct the problems that have plagued this season.