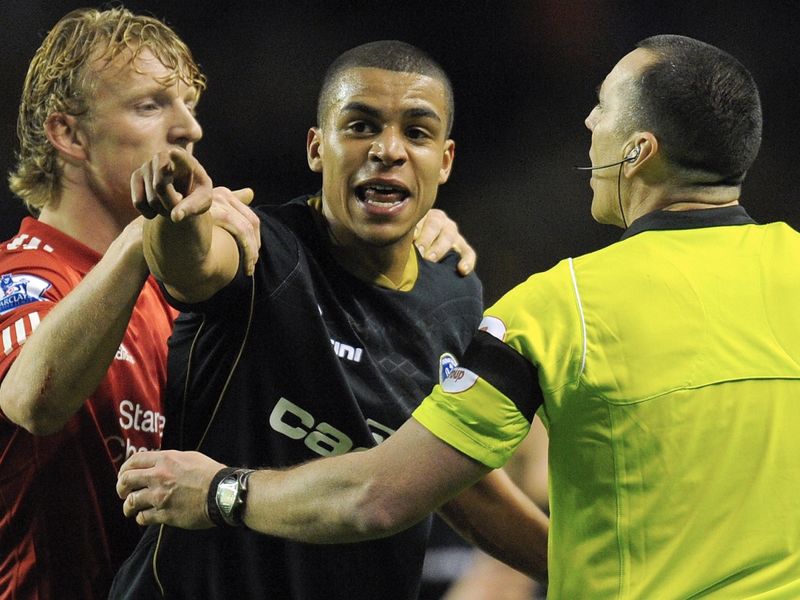 I was at Anfield on Friday night to watch the Liverpool v Oldham FA Cup match. I should have left the ground happy I had attended a very entertaining game of football, which my team had won 5-1. I should have been pleased that Jonjo Shelvey and Stewart Downing had scored their first Liverpool goals, Steven Gerrard had got through 90 minutes, Andy Carroll had scored etc. There were plenty of reasons why I should have made my way home a happy man.
But I wasn't happy. I was livid.
The reason why I was livid was because the outrageous behaviour of one idiot had undone all of the positives of the night and had opened the club up to more predictable stories, where I and the other 38,000 or so Liverpool fans there that night would be branded as racists.
I was sat in the Lower Centenary, towards the Anfield Road end, the opposite end of the ground to where the incident occurred, so I didn't hear what was said, but I saw Tom Adeyemi's reaction and I knew it couldn't have been anything good and in all probability something racist had been said to him. Adeyemi was furiously gesticulating towards someone in the Kop and had to be restrained by a couple of his teammates and Dirk Kuyt.
Adeyemi then burst into tears and had to be consoled by some his teammates, Kuyt and Steven Gerrard. The referee immediately was on the radio (presumably) to the fourth official to officially note the incident and the game resumed.
What makes this even more difficult to understand is the circumstances in which it occurred. If it was a fractious, highly-charged game, filled with bad tackles and contentious decisions, it would be easier to understand, but by no means would it excuse or justify, someone saying something stupid. This wasn't the case in that game. It was a good, honest, competitive game, with no bad tackles, no controversial decisions and played in the right spirit. This makes it more bewildering that the moron in question would come out with something so incredibly offensive.
Contrary to almost every media report I've read, the crowd did not do a Luis Suarez chant aimed at Adeyemi in the aftermath of this incident. The Kop were chanting his name before anything happened. In the immediate aftermath, Liverpool fans had to suffer a stand full of Oldham fans singing 'you're just a town full of racists', despite Oldham being a town that had a full-blown race riot a few years ago, and the Oldham fans singing a 'hilarious' non-racist, racist song earlier in the match about one of their former players. It was to that chant the Luis Suarez chants started, mostly by those around me in the sections of the Centenary stand toward the Anfield Road, aimed at the Oldham fans, not at Adeyemi, who was the opposite end of the pitch.
Cue the media reaction, who in their eagerness to go to press with another salacious story about Liverpool, they printed untrue, false information about key aspects of the story, showing their desire to print a juicy story outweighed any true sense of outrage they had. By the time I got home from the game, about an hour after the end, it was confirmed by the police that nobody had been arrested and they were still investigating, but I read the next day in more than one newspaper that as many as three fans all wearing Luis Suarez t-shirts had been arrested, as if the mere act of wearing a Suarez t-shirt had some implied tendency for racist behaviour.
Many opinion columns have laid the blame for this at the door of the club for the way the Suarez case has handled, which was admittedly poor, but to suggest that there is any correlation between Liverpool's defence of one of their players, who they believe to have been harshly treated by the football authorities, and one of their fans doing something stupid is ridiculous. Liverpool are a football club, not a bizarre mind control experiment or a cult, which has taken away the ability of their fans to think for themselves. To lay the responsibility for this persons behaviour at anyone other than him is just absurd.
It wasn't an impressionable little kid who's been arrested; it was an adult, albeit a stupid one. We are, on this planet, surrounded by idiots. All football clubs have fans who possess less brains than the average half-time pie. Some of those fans make racist and offensive chants during games. Liverpool are no exception. As George Carlin said "Think of how stupid the average person is, and realise that half of them are stupider than that."
There really isn't anything that can be done to prevent a fan doing something stupid. All Liverpool can do is provide the police with as much CCTV footage as they can, which they have, apologise to the player, which they have, then ban anyone found guilty, which they will. Oldham director Barry Owen said "People in the Liverpool boardroom were very concerned when they heard what had happened. They could not have done more to help"
The media will have you think that that sort of disgusting behaviour is the norm amongst Liverpool fans, which is wildly inaccurate. Last season, Liverpool were one of the six EPL teams without a single fan arrested for Racial/Indecent chanting (Aston Villa and Bolton had the most arrests with 4). Just 15 Liverpool fans were arrested at Anfield for any offence, 8th lowest in the league.
The only time I've ever known even a hint of a racist incident to have happened at Anfield happened on the pitch when Anderlecht's Nenad Jestrovic was sent off for racially abusing Momo Sissoko in a Champions League match in 2005. I've never seen or heard any racist words or behaviour at any other time in the hundreds of Liverpool games I've attended.
The abuse of Tom Adeyemi on Friday is by far the most ashamed I've ever been to be a Liverpool fan, or indeed a football fan. It was an incident which left me and all other decent fans sick to their stomach that a fellow fan could behave in such a way. However, I firmly believe that this incident is undoubtedly the exception rather than the rule, and nobody should make the mistake of believing all Liverpool fans are like the moron on Friday night.