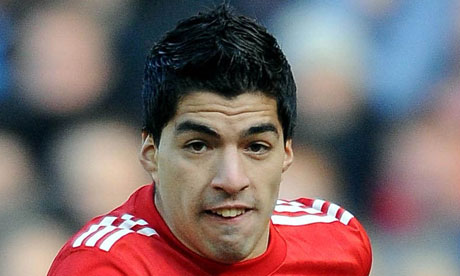 For years the perception of most football fans and the media was that Liverpool were a two-man team. The common belief was that if you stopped Steven Gerrard and Fernando Torres, you stopped Liverpool. To an extent they were right. Gerrard and Torres accounted for a huge proportion of the goals scored and assists for Liverpool, and the team never quite carried the same attacking threat when one or both of those players were missing.
I'm sure over-reliance on Gerrard and Torres was something that Kenny Dalglish was keen to change when he took over and started spending. After selling Torres, and with the investment in the team by the owners, his aim would've been to build a squad that had many players capable of driving the team in attack, rather than just relying on one or two players to carry the load. However, one of those players Dalglish bought has been so influential on the way Liverpool plays that they now run the risk of being labelled a one-man team. That man is Luis Suarez.
Luis Suarez is an exceptional footballer. He settled into English football quicker than anyone could have anticipated and he was the catalyst and main reason for Liverpool's strong finish to last season. Not only does Suarez pose a direct threat to the opposition himself both in terms of his goals and movement, the opposition worries about him so much that they leave other members of the team undefended, which was exemplified by the amount of goals Maxi Rodriguez and Dirk Kuyt scored towards the end of last season, where they were able to take advantage of the space that Suarez wreaking havoc in the final third of the pitch created for them.
Currently, Liverpool live and die in terms of results by how well Suarez plays. When Suarez plays well, Liverpool generally get good results; when he has a bad game or is absent, Liverpool struggle. Since he made his first start, Suarez hasn't missed a game in which he was eligible to play; such is his importance to Liverpool. While Suarez has played in every Liverpool game this season so far; unless some sort of miracle happens, Liverpool will have to play without Suarez at some point this season, even if it's just to give him a rest. Just from watching Liverpool, it seems that they are by far a better team when Suarez plays then when he is absent, but do the numbers back that up? If so, just how much better are Liverpool with Suarez than without?
Liverpool's record with Suarez in the team is P22 W13 D3 L6, with 42 goals scored, an average of 1.91 goals per game. Liverpool average 12.95 shots per game when Suarez plays, with 7.14 shots on target.
Without Suarez, Liverpool's record is P5 W2 D2 L1, with just 2 goals scored, an average of 0.4 goals per game. In Suarez's absence, Liverpool average 9.8 shots per game, with 4.6 shots on target.
Liverpool have played too few games without Suarez to draw any real conclusions on the difference in the number of goals scored per game when he's in the team compared to in his absence, but what is apparent is that Liverpool don't carry the same attacking threat without Suarez, as the number of shots is far lower.
When Suarez plays, Liverpool have 12.95 shots per game on average, with an average of 7.14 of those shots being on target. Compare that to when Suarez is absent. In those games Liverpool averaged 9.8 shots on goal, with an average of 4.6 on target. So having Suarez in the team is worth an extra 2.5 shots on target per game, which makes a big difference, as the more shots on target a team has, the more goals they can potentially score.
Now, it's hardly earth-shattering news that a team doesn't perform as well when its best player is absent. My question is does Suarez's absence hurt Liverpool more than other teams are hurt by the absence of their best players?
Let's do a comparison with Manchester United, specifically how they do with and without Wayne Rooney (I've not done a comparison with Arsenal, Chelsea or Manchester City as it isn't as obvious who their most important player is). I'll use the same timeframe as I did with Liverpool, i.e. After Suarez made his Liverpool debut and up to the game against Everton (Man United played Norwich) on October 1st.
So, in that time when Rooney played; Man Utd's record is P31 W22 D4 L5 with 66 goals scored, an average of 2.1 goals per game. They have 13.71 shots per game in total, with an average 8.23 on target.
Without Rooney in that time United's record was P7 W4 D2 L1 with 15 goals,an average on 2.14 goals per game. United managed an average of 12.43 shots in total, with 8.29 shots on target.
So, Rooney's absence only leads to a small decrease in total shots and has virtually no effect on shots on target, which suggests that United, while better when Rooney's in the team, carry almost the same attacking threat when he's absent. This in turn suggests that United have more players in their team capable of picking up the attacking slack in Rooney's absence than Liverpool do, and United don't rely on Rooney as much as Liverpool rely on Suarez.
What is interesting is that if you look at the games Liverpool have lost when Suarez has played (West Ham (a), West Brom (a), Spurs (h), Villa (a), Stoke (a), Spurs (a)), all of those defeats have come in games where Suarez either wasn't at his normal high level of performance or was defended out of the game. There was only this season's defeat away at Stoke that Suarez played well and Liverpool lost.
Suarez has played in every game so far this season, so we still haven't seen if Liverpool's new, improved squad can cope in his absence. However, Suarez was initially on the bench for the game at Arsenal earlier this season; and Liverpool struggled to create any notable chances until Suarez (and Raul Meireles) were introduced, which suggests that Suarez is as important this season as he was last season.
It is also important to remember that the majority Suarez's appearances for Liverpool have been whilst Steven Gerrard has been injured, so hopefully Gerrard can share some of the attacking load now he has recovered, and make Liverpool a little less-reliant on Suarez.