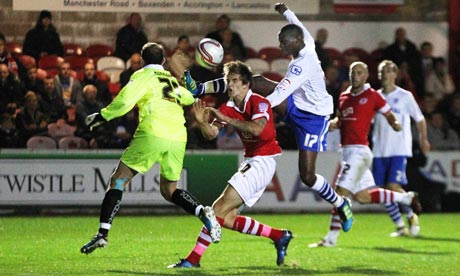 On Tuesday, I was at the Crown Ground, home of League Two side Accrington Stanley, for a Johnstone's Paint Trophy match between Stanley and Tranmere.
It was a surprisingly good game too, with both teams playing open attacking football. After 39 minutes, Tranmere were deservedly leading 2-1 and looking comfortable when Accrington's Wales Under-21 defender Tom Bender collided with his keeper, Ian Dunbavin, and ended up on the floor.
It looked a pretty innocuous challenge, so even when the Accrington physio came on, nobody thought it was anything more than a run-of-the-mill injury, and everyone expected the player to get up and play resume quickly.
However, it became obvious quickly that something was very wrong. Bender was laying face-down on the pitch and wasn't moving. A horrible scene was unfolding in front of where I was in the Tranmere end. The medical staff from Accrington and Tranmere, some St John's Ambulance volunteers, plus Kevin Benson, a Tranmere-supporting A&E (emergency) doctor, who was at the game and volunteered his services, were giving him treatment on the pitch but he wasn't responding. We could hear them saying that they suspected Bender had broken his neck. Bender was being given oxygen and an IV, but worryingly, still wasn't moving or showing any sign of coming around.
Accrington are only a small club, so probably can't afford to pay to have an ambulance on standby at the ground every game, so an ambulance had to be called to the stadium. Due to a series of unfortunate circumstances which meant all local ambulances we already in use, the closest available ambulance was in Preston, 20 miles away. It eventually took half an hour for an ambulance to arrive, when regulations state it's supposed to take a maximum of 8 minutes for an incident that serious, which wasn't good enough and left many in the ground angry.
The players had been taken off the pitch to allow the ambulance access, with the intention of the game resuming once Bender had been taken to hospital. However, due to the seriousness of the injury, the game was rightly abandoned, as the players were in no state to continue, such was their concern for Bender's health. Indeed, as we left the stadium, we asked a steward if there was any news on Bender's condition, and from the way he was talking, it wasn't certain at that point whether or not he was going to live.
Thankfully, Bender suffered nothing more serious than a severe concussion, which, while not a minor injury by any means, is far better than the broken neck he was thought to have suffered. Bender regained consciousness later that evening and was released from hospital the next day.
The game is due to be replayed this Wednesday and Accrington Stanley manager John Coleman has offered to let give Tranmere a goal head start. Coleman said "We will speak to Tranmere and I have no problem about giving them a goal. We will do whatever they feel is appropriate; to be honest they were miles better than us, so I'd have no objections about that.
Tranmere were very much on top in the game, they were winning 2-1 and worthy of that lead, so they deserve a lot of credit for not complaining about it (the abandonment).Some football people think about the football result at all costs and to be fair their fans responded magnificently as did their players and staff."
This is a superb piece of sportsmanship by Coleman and a magnificent gesture, but it throws up a bit of a dilemma. Should Tranmere manager Les Parry actually take them up on their offer?
Firstly, Tranmere were by far the better side in that game. Accrington had made little to no impression in attack all game, their goal was the most spectacular own-goal I've ever seen from Tranmere's Zoumana Bakayogo, and Accrington could count themselves fortunate to only be one down at the time the game was abandoned. I would have been shocked had the result have been anything other than a Tranmere win.
Also, the Johnstone's Paint Trophy represents Tranmere's only realistic chance of success this season. They are already out of the Carling Cup, it is very unlikely they will go far in the FA Cup and despite a good, solid start to the season; Tranmere's tiny budget means that promotion out of League One is highly unlikely. So it may be very tempting for the club to accept Coleman's offer and give themselves the best chance of winning the game and advancing to the quarter-finals.
On the other hand, it doesn't quite sit right with me that a team should just be allowed to score uncontested, unless one team scored a goal that goes against the spirit of the game and they redress the balance by allowing their opponents to score. This happened a couple of seasons ago in English football, when Yeovil Town's Lee Johnson, while trying to return the ball to Plymouth after they had put the ball out for an injured player, inadvertently scored. Then-Yeovil manager Gary Johnson, the father of the scorer, immediately allowed Plymouth to score an uncontested goal.
What happened in this game was a freak accident. Nothing happened that contravened any of the written (or unwritten) rules of the game, and while it's cruel luck that Tranmere didn't get the opportunity to win the game that night, I don't believe they should be given a head start in the rearranged match.
Abandoned games happen for all kinds of reasons, any of which could have happened that night. If the game had been abandoned for adverse weather making the pitch unplayable, or if the floodlights had failed, no team would expect to be given any sort of advantage by the opposition, so why should Tranmere be given an advantage for another circumstance that was beyond anyone's control?
I'll be there for the rearranged game on Wednesday, so it'll be interesting to see what happens. John Coleman should be applauded for his generous, sporting, offer to Tranmere, but I hope that Les Parry and all who make the decisions at Tranmere decide not to take him up on it.
EDIT:I'm happy to say Tranmere didn't accept a free goal, and won a poor game 1-0. Accrington manager John Coleman thanked the Tranmere fans for their understanding the previous week in the match programme ,and came over to applaud the away fans at the end, which was a nice touch.