And then we have America's Sweetheart, Hope Solo: http://www.youtube.com/watch?v=5L_CCJPIGJ0
Forget what those idiot judges said, Hope. We love you anyway.
Granted, the whole routine was a bit confusing - I guess it was a little soccer vignette of some kind - but if having "great footwork" as a GK was the same as being able to dance like Julianne Hough then Brad Friedel would be starring in a revival of The Wiz instead of degrading himself by appearing with that neoCosmos Adult Open team in a cheesy Paul Scholes "testimonial match" just for a quick paycheck.
My only real complaint - no, I'm not going to say one damned thing about "Chaz" Bono; nope, not me, just not gonna go there, no way - has to do with your partner.
Now the truth is that you're, well, not exactly a petite, delicate little flower. Not a thing wrong with that, truly. Hollywood notwithstanding, very few women are. But it does mean that you don't partner well with some mincy little pretty boy who would never dare challenge you for a cross into the box unless he wanted to swap makeup tips.
Anyway, now that the Canada match is over and you don't have to split practice time, we'll all be looking for bigger and better things.
And so will that guy who appears briefly around 1:35.
From the Department of Ideas Whose Time Has Come: They're all excited down in the Bahamas about the opening of the brand spanking new Thomas A. Robinson National Stadium in Nassau. As well they should be; looks to be a right snazzy place.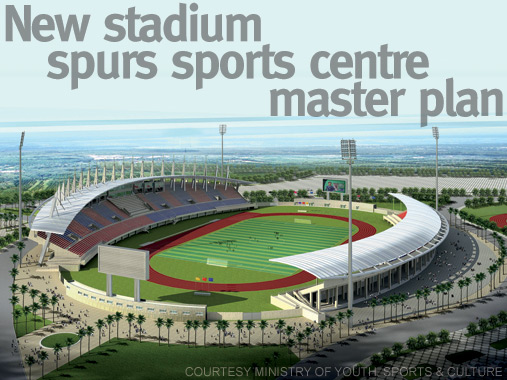 And it's impossible to say exactly where the idea originated, but some folks down in Nassau think it would be a spiffy venue for an MLS team.
"MLS started in 1993 and some 18 teams based in the United States and Canada make up the league. The Bahamas could very well end up being that third country involved with MLS."
Well, why not? Instead of snooping around Edmonton, Calgary and Moose Dung Falls for another Canadian entry, or waiting around for the Kosmos Klowns to come up with another round of financing from some oil shiekh, why not a place where the daiquiris flow, the beaches are spectacular and the natives aren't the least bit likely to beat crap out of you in the parking lot?
The best road trip in sports, hands down.
Just saying.