Nathan Eccleston is hardly a household a household name. He's a striker who's been on the fringes at Liverpool for a couple of seasons now without ever really looking like he's going to break through. Someone who does have talent, but hasn't looked good enough to play at the top level in his few appearances so far.
Eccleston, currently on loan at League One Charlton, has managed to make a name for himself for all the wrong reasons, by getting into trouble for a tweet he posted on the tenth anniversary of 9/11 suggesting that terrorism was not responsible for what happened that day.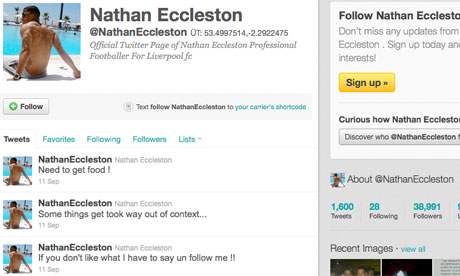 On Sunday, Eccleston decided to tweet the following "I ain't going to say attack don't let the media make u believe that was terrorist that did it". He followed that later by adding "If you don't like what I have to say un follow me!! Some things get took way out of context..."
Liverpool are currently investigating, with the club releasing the following statement: "The club takes this matter extremely seriously and senior club officials have informed Nathan Eccleston that we are undertaking an investigation into the circumstances surrounding these postings and will decide on an appropriate course of action."
Apart from coming across like he's watched Loose Change or some similar 9/11 conspiracy theory documentary one too many times, and doing little to break the stereotype of the uneducated, idiotic footballer, there is a more serious side to this tweet. Intentionally or not, Eccleston's tweet belittled the way in which many friends and families of the victims believe that events transpired and his comments are extremely crass, especially because he chose such a sensitive time to express his opinion.
I believe everyone's entitled to free speech, so I'm not denying Eccleston's right to express his opinion. If that's what he believes then fair enough, there are millions of other people who share that opinion too. However, nobody can deny that it was incredibly bad judgement to make those comments in a public forum on a day of remembrance for so many.
What Eccleston needs to consider is that he is associated with Liverpool, who not only have a large American fanbase, but are owned by a company from Boston, a city hugely affected by 9/11 as it was where the two planes that hit the towers took off from, so his comments were extremely insensitive, ill-timed and idiotic. This was one of those times where keeping such an opinion to himself would've been by far the wiser course of action.
At the time of writing, Eccleston's Twitter account has not been deleted, though the offending comment has. Eccleston as an individual has the right to say whatever he likes. Liverpool have the right not to like what he says, distance themselves from those comments and take action against one of their employees. It remains to be seen just what action Liverpool will take.