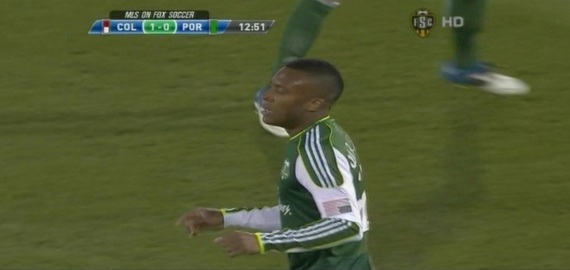 It would be simplistic, lazy, cheap and superficial to simply blame the Costa Rica loss on Jozy Altidore.
So that's exactly what I'm going to do.  Seriously, do they not call offside in Holland?  Because Altidore showed a lack of timing and game awareness that singlehandedly crippled what should have been a fantastic US outing.  It's one thing to constantly mistime runs - which Jozy did plenty of, don't get me wrong - but a couple of times Altidore was fixed to a spot like the Charter Oak.  It's like he refused to consider taking a single step back - a strategy that worked about as well in Carson as it did in Stalingrad.
Oh, yeah, and Landon has to make that shot.  And a couple of the other shots, sure, but mostly that shot.  They say 2-0 is the most dangerous score in soccer - pure crapulence.  The most dangerous score is 0-0 at halftime, when you've brutally outplayed your opponent.  The "winning" coach doesn't make adjustments, because things are going great!  The "losing" coach makes changes - hey, they're only playing with one forward, and he's not up on the offside rule!  By the way, what is Roy Lassiter doing these days? - and all of a sudden it's a game of two halves.
I know, it said on the reports that we used three forwards.  Believe your lying eyes.   Teams that actually use three forwards can find space when the other team puts three freaking defenders on the central forward.  We did not.
Donovan and Brek Shea were all over the field, which was nice and exciting, but with Altidore as the heat sink in the middle, Shea and Donovan simply switched wings.  Klinsmann thinks that fitness will solve the issue, but it isn't like Shea and Donovan are fat slackers.  When Shea did finally stay in a forward position after Jozy was subbed off, he had been running up and down two separate sidelines for the better part of eighty minutes. What more do you want from him?  I think he's played his way into the pool for certain, and depending on what happens in the next couple of years, consideration for a starting role - and I'm the guy who dismissed his chances pretty early on.
But there's only physically so much any one player can do, especially when Jozy and Landon aren't helping.  Even Torres at 90 minutes of that level wasn't going to help Shea that much, although I also have high hopes for Paco in Klinsmann's setup.  And when the substitute is Sacha Kljestan, well, Shea was pretty much in the same position as Butch Cassidy and the Sundance Kid when the Bolivian Army surrounded the farmhouse.
If Sacha Kljestan is ever going to amount to anything, he needs to ditch MLS and play in Europe.  Wait, what?
Robbie Rogers is a high quality MLS player, and he might end up being a very, very productive player for a European team.  There is no shame in this, none whatsoever.
I thought Edgar Castillo played much better than in his debut.  If he keeps improving at this rate, he'll be a quality international defender by the year 2525.  Actually, and this is going to bite me in the backside down the road, but I do sort of see what Klinsmann is trying to do here, and it's a lot like what every US coach since Sampson has wanted from their wingbacks - offense, and lots of it.  Frankie Hejduk was the prototype for this, even more than Steve Cherundolo.  When you have guys like this, your offense is much more multifaceted, and your defense can stop anyone.
But we've been luck for a decade or so getting guys like this.  And, ever since Cherundolo left the Gold Cup, we've been helpless on our defensive wings.   Jonathan Bornstein, for a minute there, had that versatility.  Which is why we're going to see him again as soon as he plays well for a club - any club.  Just warning you.
Should Klinsmann get rid of one of the USMNT's most definitive and successful characteristics?  Well, if we're trotting out players like Castillo in place of reliable defenders, maybe.  I don't like our central defense at freaking all right now, and as long as we're in a situation where Carlos Bocanegra is still an automatic starter, I want to see if we can come up with a lineup that doesn't betray Tim Howard twice or three times a game.  If the guys manning the sideline aren't tracking back, don't know what to do if they did, or better still started the counterattack in the first place - well, Balboa, Lalas and Dooley would have had trouble, let alone Bocanegra and Insert Name Here.  And let's face it, Michael Orozco Fiscal is not good enough.  For the Philadelphia Union.
Then again, I suppose I can assume that Tim Chandler will make the Tony Sanneh of 2002 look like Cle Kooiman (the prototype of the sort of wingback who is NOT offense-first, and a big part of the reason I should be careful what I wish for).  I liked what I saw perfectly fine, but it's way too early to know how he will link up with whoever the heck will play in front of him - and if it's two or three different guys even in the first half, that understanding is going to take a while.
So, in essence, I'm saying take upwards of six months before judging Chandler's chances, but make a quick decision on Castillo.  Isn't soccer analysis fun?  It's like a mixture of Mad Libs and Choose Your Own Adventure.
I suppose there's no need to panic, although how we're going to do against Costa Rica when Bryan Ruiz is called in is a pretty good question.
Then again, Costa Rica won't have six subs to call in, so in an important rematch the US won't have a team that is 50% fresh legs.  I read why Klinsmann didn't make subs, and I agree with it - it's like in spring training baseball, where you tell the prospect to stay out there throwing curve balls even though the batters are going to send them into orbit.  But the cost is that you sometimes lose 1-0 games you shouldn't.
Seriously, you can say "Klinsmann is responsible for this loss," and not have it mean the loss was important, or that Klinsmann didn't learn a lot from the defeat, or even that Klinsmann didn't achieve what he wanted to achieve.  If the primary goal is to build a new midfield around Torres, then this might have been a closed-door scrimmage for all it mattered.
If , however, the purpose was to teach Altidore the offside rule, then is Sigi still available?
Anyway, if we score early, it's a 3-0 boatrace in our favor.  It's a funny old game.  I suppose it's better that we did lose, so that we can address flaws instead of asking the magic mirror who's the fairest of them all, then humming over the response.
When I say, "we," of course, I mean me and Klinsi.  He and I will sort this out.  Mostly me.
By the way - although the raw numbers attendance-wise weren't faboo, and, as is traditional for Home Depot Center games, the pricey seats in the west midfield side had more green patches than a recon flight over Iowa, the US fans were terrific.  This isn't self-promotion - I was clear on the other side (sorry to the people near me, my daughter had too much sugar, you were all very patient with her).  But they looked and sounded great.  Would I like to have "Puto!" banned forever and ever and ever?  Sure, but apart from that, credit where credit is due.
The US drew well under Bradley, too, in recent years, so even though the positivity in the early-Klinsmann era was palpable, I think this is a case of the national team continuing to make serious progress in Los Angeles.  Was a time that the US was more likely to have a favorable crowd in Mexico City than in LA.  (If the US played El Salvador in Azteca and the LA Coliseum, which would have the more pro-US crowd?  That was the theory.)
It's a very good time to be a US fan - I mean, apart from the winless streak we're currently on.  We haven't won in months!  PANIC!