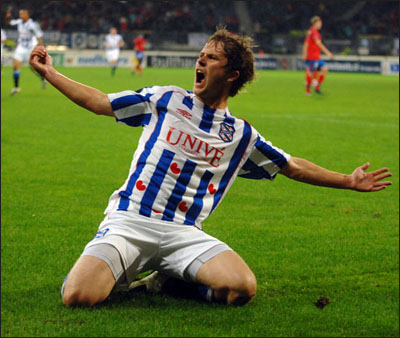 Phillippe Lahm's favorite coach has now had to pick two rosters in a single month, so while it's fun to see where he might be going, we probably will have to wait until the annual January retreat to get a truly good idea of the vision Klinsmann has for the team.
So it's unfair to do what I'm going to do right now - compare the rosters and make value judgments.
What's not fair is to look at the fringe players and untried prospects, and see where they might stand.  We won't see the grand scope of the future of American soccer, but we can see on a single-player level who's likely to be part of the picture in the future.
WHO'S IN: M - Fabian Johnson M - Sacha Kljestan M - Jeff Larentowicz F - Jozy Altidore F - Teal Bunbury F - Clint Dempsey
(I didn't count Loyd and Rogers as "in," because they were injury replacements for the last roster.  Oh, you figured that out.)
WHO'S OUT: M - DaMarcus Beasley M - Michael Bradley M - Ricardo Clark M - Jermaine Jones F - Freddy Adu F - Edson Buddle
JONES, CLARK AND BRADLEY ARE FINALLY GONE!  HALLELUJAH!  A BRIGHT, BEAUTIFUL NEW DAY HAS oh wait
"All three of these players are trying to sort out their club situations, and the deadline for transfers is a week away. They have also not been playing matches, so for these reasons we decided to select different players for this roster."
Well, we'll see what happens if these guys continue not playing matches.  I see Larentowicz as an apple-for-apple switch in this case - and while it's unlikely, I hope Beckerman and Larentowicz play well enough that Jones and Bradley continue to be expendable.
Yes, yes, I know, Beckerman and Larentowicz would probably have the same club instability if they were trying to stick on a Premiership team.  I just like them better.  And neither of them were godawful for the national team in the previous month.  That could change in early September, sure.  But if we decide to finally apply the long-dormant rule of club playing time as a prereq for national team playing time, I'm happy to start with Jones and Bradley.
Oddly, Freddy Adu has a club now, and he gets dropped.
Even considering that the US is chronically desperate at forward, and even considering that he can always attend the Fringe National Team Players Convention held every January in Carson, I wonder if these games aren't pretty important for Teal Bunbury.  He's disappointed this year in a way that perhaps only someone ill-advised enough to put him on his fantasy team can truly appreciate.  No player wants to go to a national team training and be hideous, but if, say, Landon Donovan were to have an awful week, I think he'd be called back anyway.  Bunbury...well, Canada might be gearing up for some bitter laughs at his expense.
Perhaps we as fans should stop glomming on to literally anyone who puts his shorts on forwards as the Answer, because the attention never seems to do anyone any - ooh, lookie!  Fabian Johnson!
So WHO'S WAY OUT - selected players whose numbers Rikki seems to have lost? G - Brad Guzan D - Jonathan Bornstein D - Mikkel Diskerud (have we passed the death penalty for "out of the mix" jokes yet?) D - Omar Gonzalez D - George John (assuming he wants to play for the US and not Trinidad.  Greece?  No, with a last name like "John," it has to be Trinidad or Grenada.) D - Eric Lichaj D - Jonathan Spector M - Alexander Bedoya M - Joe Benny Corona (at least, according to Joe Benny Corona) M - Benny Feilhaber M - Stuart Holden F - Charlie Davies F - Robbie Findley F - Herculez Gomez
I guess a number of these guys (Bedoya, John, Guzan, Lichaj) fall under the club instability situation Klinsmann mentioned in connection with Bradley, Jermaine and Ricardo.  Although I feel like being tactless and saying that there's a difference between a situation like George John going to a significantly more prominent league in a different nation with serious work and labor laws, and a situation like Jones or Bradley where the transfer issues are motivated by lack of production with the previous club.  Klinsmann, like any national team coach, isn't going to say "he's been stinking it up and I think I've got better players elsewhere" in any case, but "club issues" isn't an explanation as much as a catch-all.
I put Findley on as a joke, sorta.  Guy was on our World Cup roster.  Saw the field and everything.  Same with Herc.   I put Holden on the list because I was making a list of prominent US players who hadn't been called in, and what was I gonna do?  Pretend he was called in?  I know as soon as he's fit, he's on the roster, and we'll all be better for it.
Charlie Davies - well, he's got a club, and he's been playing.  I think Davies is a victim of Juergen Klinsmann's well-documented distaste for diving.
Omar Gonzalez - well, as a Galaxy honk, I'm obliged to point out that he's two years younger and a lot bigger than Zach Loyd. But Loyd's more versatile, and...well, I'm still haunted by something Bob Bradley said about Gonzalez last year.  The book on Omar is that he's all physical presence, and not so good in the positioning or technical aspects of the position.
The positive scenario: Gonzalez continues to learn under Bruce Arena and Dave Sarachan - c'mon, it's not like we're asking Curt Onalfo to coach him.  What?
The negative scenario: Big brick of a defender out of Maryland fails to live up to hype, settles for long, violent MLS career.  Califf 2.0, basically.  Is there anything worse in the world than a Maryland defender?
Oh, Clarence, hi, didn't see you there.  Oh...Jeremy, hey, how's it going.  A.J. - how are things.  Maurice and Graham, I believe I was clear that I said "defender."
There is a lot we can learn from this, which is why they have these games in the first place.  But it's best to look at these under January Garbage Friendly rules.  A good or great game only keeps you around for the next callup...maybe.  Depends on who's injured.  A bad game - well, congratulations, you've won a free personalized national team shirt.
Oh, wait - we don't do that under Klinsmann.  We're gonna need that shirt back.